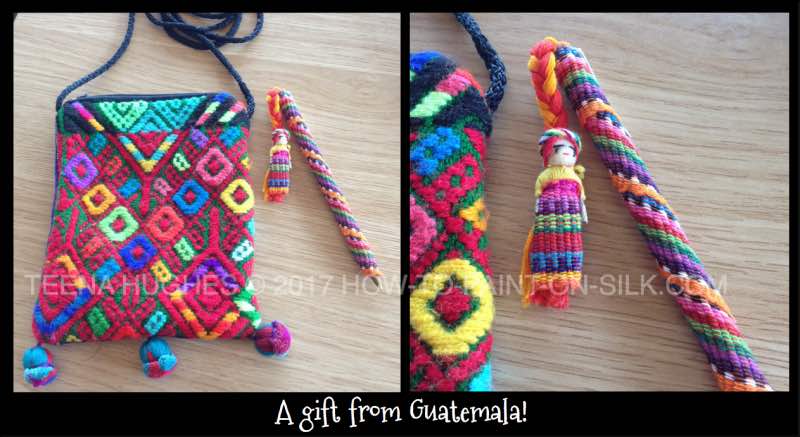 Gorgeous colourful designs from Guatemala – plus a gift for me – and one for you!
My friend Carolyn just returned home to Australia after an amazing trip to the Houston Quilt Festival in the USA, and a week-long Adventure in Guatemala with other textile lovers.
We met up for brunch at one of my favourite local cafes at the end of a wharf at my local beach. I love the location, surrounded by water – in fact hovering over the water, with a view on 3 sides of yachts bobbing, and listening to the bell-like sounds of the rigging in the soft breezes.
I couldn't wait to hear all the stories about the almost-four week trip, and sat with eyes as big as saucers as I heard all the details and looked at the hundreds of photos — oh my, what a feast for the eyes! I wished it was scratch-n-sniff so I could smell the food, the flowers and taste all those delicious lemon and lime inspired drinks!
Now let's look at a close-up of the amazing colours and weaving of the bag, miniature doll and woven pen cover — amazing!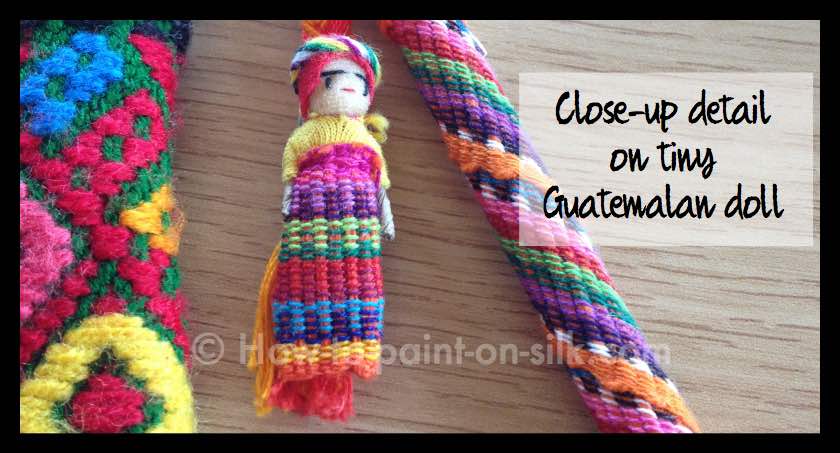 Gosh these are gorgeous! The doll is approximately 1″/1.25cm high, and to see the little hands and face, the head wrap and the clothing is pure joy!
Do you have anything like this in your life, something made by hand by a person in a far-away land?
If you do, I'd love to hear about it — please do send me an email or pop over to Facebook.
For many of us, our lives are filled with so many "things" to make life easy etc, so surrounding ourselves with hand-made objects adds a richness which enhances our love of the expertise which has gone into the creation. all artisans create magic and delight! Fabulous!
---
The results of the Poll are in!
There has been an overwhelming response to the Poll on this site and on social media etc, and the winner is …….

Register to grab your gift (discount)!
COURSE:  How to Steam Hand-painted Silk with a Bamboo Steamer
LINK:  https://gum.co/bamboo101
LAUNCH DATE:  Saturday 11th December, 2017
Early Bird Discount!
SUBSCRIBER'S GIFT: For everyone on my mailing list, $10 off for the next 7 days! Check your email for the Discount Code!
Stay tuned for the rest of the Courses which will also be launching very soon.
Looking forward to seeing you on the Course!
---
I hope you liked these gorgeous colourful designs from Guatemala as much as I did!
I've had a few requests this year for printed designs from my followers, so I thought you might like one based loosely on this Guatemalan design. If you're one of my Subscribers on my Newsletter, you will have receive this in my next Newsletter (if you haven't signed up yet, do so here so you don't miss out).
Let me know if you have any questions – just send me an email or pop over to Facebook and say hi!
Have a spectacular day wherever you are!
Hugs,

Teena xo
---

---
Not on my mailing list yet? Click the image to sign up so I can send you juicy silky tidbits 🙂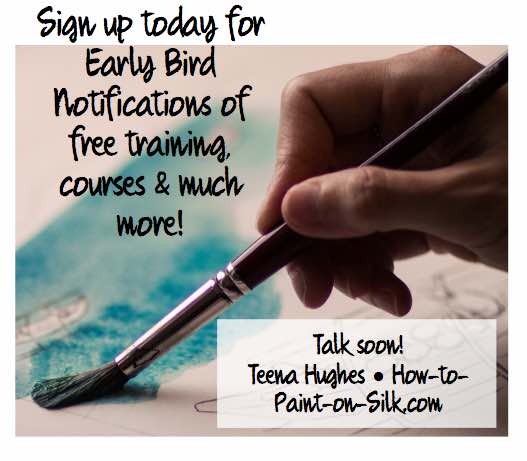 … or click here to Subscribe >>
---