How to Paint on Silk
with Teena Hughes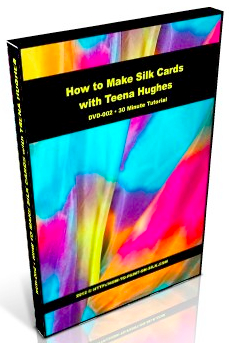 I'm thrilled to announce my second How To Paint on Silk DVD-002 showing how to make your own beautiful hand-painted silk cards - it is now available to the public!
DVD-002 holds your hand and walks you through creating your very first silk cards with small pieces of silk you've already painted. You learn how to create gorgeous mini artworks and I'm sure you'll enjoy making these cards as much as I do :-)
Read more about my new DVD-002 |  Order DVD now | Free Membership
My first DVD-001 has been getting rave reviews, and provides indepth, step-by-step lessons, with over 6 hours of video tutorials, PLUS a ton of PDFs (additional documents) to make it super easy to learn some great techniques - all in the comfort of your own home!
Read more about DVD-001 today! |  Order DVD now | Free Membership
Want to learn how to paint on silk?
Have you ever wondered how to paint on silk, but thought it was too hard for you to try? Then you've come to the right place :-) Hi - my name is Teena Hughes and I've been painting on silk for 30 years, and teaching people all over the world. I love to make videos about silk painting, and I have online courses, home study course DVDs and free videos on this website.
This video below gives an overview of how to get the black outlines around your designs on some silk scarves, wallhangings and paintings - enjoy! :
. .
A new silk student Pru wondered whether she'd be able to do anything creative ... click the video to see Pru's great results!
. .
To see what the other students created in this class pop over to this Silk Painting Workshop page >>
If you like watching silk painting videos, here are more videos I've created which you might enjoy.
TIP: DON'T CLICK THE LARGE VIDEO - you'll be taken to Youtube :-)
DO CLICK the little videos at the bottom of the pink window to choose which one to play on this page - enjoy! If you'd like to learn how, let me know!
.
.
Preparing for the Royal Easter Show in 2011!
I'm starting to plan next year's 3 day adventure - I am soo looking forward to it!
Royal Easter Show - 12-14 April, 2010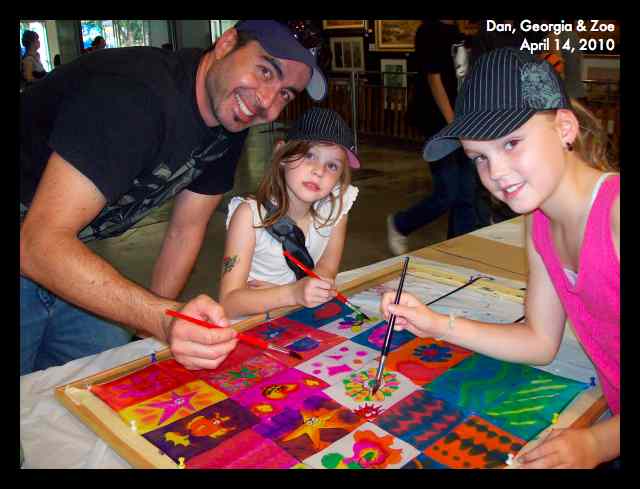 I was at the Royal Easter Show in Sydney in April, teaching people of all ages silk painting - I had a faaabulous time!
Here are a few photos  & a video >>
I had kids from 2 and 3 years old having a go at silk painting, all the way up to teenagers and adults, and I had the BEST time! There's nothing more special than showing people how to do something I love and get so much enjoyment out of!
You can see all the photos and videos on the Easter Show page >>
Learning How to Paint on Silk
Watch this quick little video to see how easy it can be (video only takes about a minute :-))
. .
Have a look at this recent video of first-time silk painters in one of my classes:
. .
I've been teaching silk painting for thirty years, and I still remember how scared I was that I'd make a mistake ... so I understand what my students are going through when they first start out. I do my best to take the fear away and show each person that they too can go home with a wonderful piece of silk which they have actually painted all by themselves.
So - are you ready?? Sign up today (in the hot pink box) to get notified about upcoming workshops and things to do with silk painting, or check out the Calendar of Workshops - or contact me to talk about what you'd like to learn.  Looking forward to meeting you soon!
Cheers
Teena