Juanita's first time silk painting with Cold Wax
In this little video I chat with Juanita at her first silk painting lesson.
httpv://www.youtube.com/watch?v=R4R6S2tIsXQ
View on Youtube:  http://www.youtube.com/v/R4R6S2tIsXQ
Transcript:
Juanita has learned to mask areas by creating borders using thick brushstrokes of Cold Wax for Silk Dyes. The colours can bleed and merge, and we'll see what happens.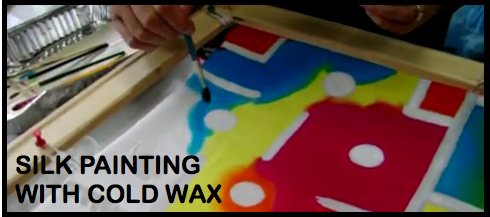 Yellow when merging with hot pink and orange creates amazing results.
Teena's been experimenting with hot pink and orange for silk painting for over 10 years.
Juanita also mentions the results of the cold wax which she's seen on Teena's finished hand-painted silk cushions, where the white outlines are sharp and crisp.
Finding good books in Australia about how to paint on silk has been difficult for Juanita, although some can be found by American and English silk artists online.
Turquoise merging with yellow makes a stunning lime green, but remember that when the silk has absorbed as much dye as it can, it's important not to keep adding more dye, as it won't make the colour darker.
Orange and blue make a muddy but delightful colour, so do allow the colours to merge to see which fabulous results will appear.
I hope you enjoyed this Silk Painting with Cold Wax video tutorial.
Although there are currently no books on cold wax, Teena Hughes is about to publish her first Silk Painting with Cold Wax book – stay tuned!