Have you been using Red Label and/or Green Label Jacquard silk dyes?
Wondering what the difference is?
Here's the scoop straight from the horse's mouth about Jacquard silk dyes, how to use them, who uses them, and what the results might be.
Dye name
Beginners
Professional
Silk Artists
Steam-set
Fixative bath
Remains soft
Green Label
Yes
No
Yes
Yes
Yes
Red Label
No
Yes
Yes
No
Yes
beautiful result
end result is somewhat more toned downed due to the fixative bath method
better results can be achieved by steam-setting instead of fixative bath.
are fantastic for brilliance and depth of color
for the serious fiber artist, used by professional silk painters
predictable, hardy dye yielding deep shades of colour, continuous tones, pure primaries and beautiful transparencies
MUST BE STEAM-SET.
Both of the dyes are also easy to blend and to dilute to pastels and 'washes'.
The Green Label silk dye is fixed using the Permanent Dyeset Concentrate and this method of fixing is very easy and leaves the silk with no hand at all.
The Red Label silk dye is fixed with steam – using some sort of steam chamber.
This method gives brilliant color and no "hand" (silk remains soft), but for some folk the learning curve is intimidating.
Jacquard's website says:
Liquid dyes for silk painting—these easy-to-use dyes, produce rich, transparent colors that allow the translucent nature of the fabric to shine through. All 20 colors may be blended to produce an infinite range of vivid colors that flow freely on silk.

Silk Colors are true dyes, not thinned pigments, so they do not stiffen the silk or cover the luster. All 20 colors may be blended together into an infinite range of vivid colors or diluted with water for pastels. These simple to use dyes are lightfast, odorless, non-toxic, contain no alcohol and can be hand washed or dry-cleaned.

Green Label Silk Colors can be set in one of two ways—by immersion in our Permanent Dyeset Concentrate mixed with water or by steaming. The Dyeset Concentrate method takes 5 minutes, produces excellent colors and couldn't be easier. But for the absolute best colors these dyes should be steam set.

This predictable dye yields deep shades, continuous tones, pure primaries and beautiful transparencies. Geared towards professional artists and productions studios, you can put this dye through its paces and it will perform. Ideal for traditional silk painting or painting on cottons and rayon it is also used in many specialty applications utilizing discharges, chemical resist, printing and diffusion techniques.

Red Label colors are modified reactive dyes concentrated for economy—they are twice the concentration of our Green Label Silk Colors. Red Label silk colors are set by steaming.
I do hope this information on the difference between Red Label and Green Label Jacquard silk dyes helps clarify any questions you have had. Whichever silk dyes you use, remember to have fun and enjoy yourself!
I'm looking forward to hearing all about your silk painting projects!
Talk again soon! If you'd like to chat, I'd love to hear from you!
Please do write a Comment below, send me an email or pop over to the Facebook page, Twitter page, or the Youtube Channel.
Have fun! Enjoy!

Teena Hughes
---
Recent silk painting links you might have missed:
Post below, I'd love to hear from you!
---
Not on my mailing list yet? Click the image to sign up so I can send you juicy silky tidbits 🙂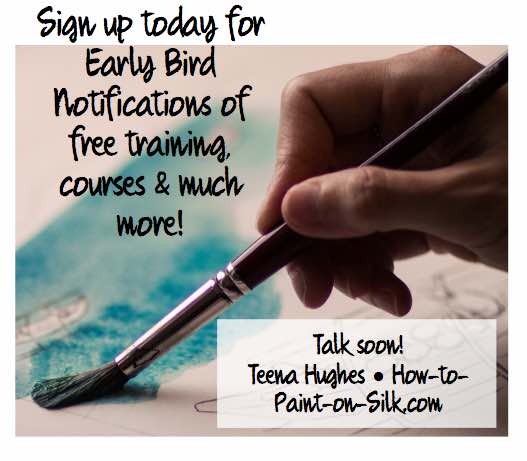 … or click here to Subscribe >>
PS: Want to know how to create moving images of silk – check out my quick tutorial! >>
---
Other silk painting links you might enjoy:
Ciao for now!