Silk Painting Q&A 001 with Teena Hughes – a new Series!
Transcript
Hi there. Welcome to Silk Painting Q&A 001 with how-to-paint-on-silk.com
My name is Teena Hughes and I'd like to answer your questions.

The first one is, "Teena, is it expensive to paint on silk?"
Well my answer is no, it doesn't have to be. You'll need :
silk
some silk dye
paint brushes
a wooden frame
and some thumb tacks.
Now each thing doesn't have to be expensive. The silk you can probably buy between $8 and $10 a meter (or yard) and that would be weight Mommie #8.
Then you've got the dye, silk dye, you can buy small bottles of silk dye. They don't have to be large, so that doesn't have to be expensive and just buy a couple of colors, maybe three colors just to play with.
Paintbrushes as long as they're soft, you can use any brand of paintbrushes and you can have little tiny ones and thick brushes in a range of different sizes.
Now as for the frame, I've worked out that the cheapest frames can be bought in artist's supply stores and they are push-together wooden frames – you just have to start with a frame about 18 inches square or 20 inches square and then some plastic coated thumb tacks, so that you can push them in and attach the silk to the wooden frame.
So really, all of that won't add up to very much at all.
Now on the video screen at the moment, you can see a mini silk painting attached to a frame and it has the thumb tacks, brightly colored thumb tacks.
You can see a couple of small bottles of dyes and then you can see the frames disassembled as well so you can get an idea.
And that is really when putting together all your bits and pieces, you will be able to fit them all on to a card table which is what I used to use when I was painting small amounts of silk.
So I'd put the card table in the lounge room or the living room while I was watching TV and I would just paint small pieces. So that makes it really easy for you.
Okay, I hope this has answered your question. If you've got any more questions please do let me know. I'll be creating an entire series of these and I'll look forward to hearing from you and if you want to send me photos of your silk paintings if you are having a go, I'd love to see them.
Cheerio for now.
This is Teena Hughes from how-to-paint-on-silk.com and I'll see you soon. Bye bye.
Don't forget to pop over to the website and sign up for my silk tips and silk news. See you there.
— END OF TRANSCRIPT —
---
---
Did you enjoy my Silk Painting Q&A 001?
I hope so!
Let me know if you have any questions, send me an email or pop over to the Facebook page – I look forward to chatting with you.
Feel free to comment below if you'd rather do that — I'd love to hear what you're working on.
Have a gorgeous day wherever you are!
Hugs,

Teena xo
---
Not on my mailing list yet? Click the image to sign up so I can send you juicy silky tidbits 🙂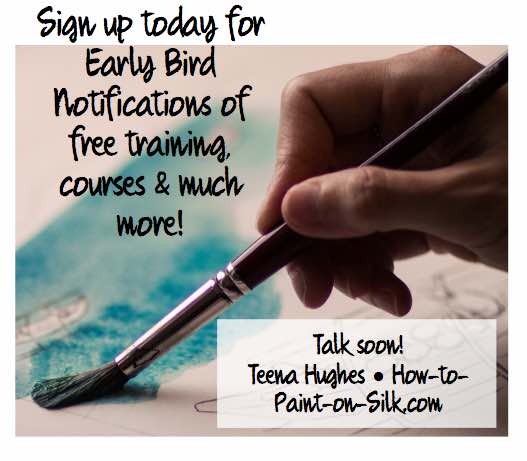 … or click here to Subscribe >>
---