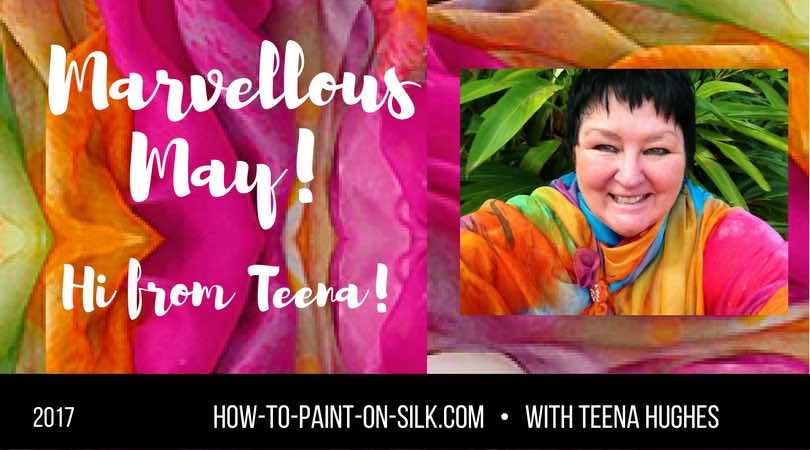 Silk Painting News Update!
Hello! Hello! How ARE you??? How is the arty-fartyness? I'd love to hear what you're working on 🙂 Are you ready for silk painting news?
It's only just starting to get chilly on this part of the Queensland coast of Australia, the weather's been superb, and I'm hoping Winter continues to take it slowly when thinking about moving in for the season!
What's the season where you're living right now? Are you feeling more or less inspired to be creative? I know I'm definitely affected by the weather when it comes to painting on silk 🙂 Please do post a message in the Comments below if you'd like.
Arty Designs & Coloring Books (US spelling!)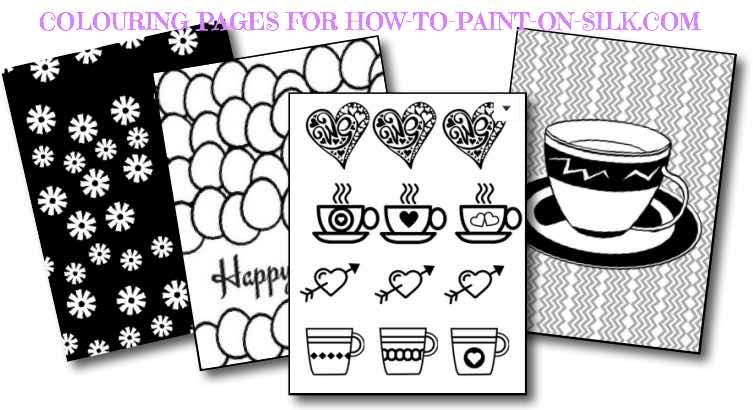 This inspired me to think about new DESIGNS for handpainted silk scarves, cards, bookmarks and other gorgeous things to make. I've also been interested in all the COLOURING BOOKS (UK & Australian spelling!) which are now available, so I put my thinking cap on and I've come up with some sketches you might like to download and use in your own designs — if you think of something you'd like me to sketch or create as a PDF download, let me know and I'll have a go (just click REPLY to the email you received from me or send me a message from the website – easy peasy!)
Pssst! If you'd like a copy of these examples, let me know!  They can also be used as templates for painting on silk projects 🙂
SILK ARTIST "GETTING ORGANISED" BOOKS
Remember the books I wrote about quite a few months ago?

Quite a while ago in the Silk Painting News I wrote, "I've been busy planning some books to publish, and rather than the same old type of silk painting books, I wanted to create books which can also help with the organised, practical side of silk painting!"
I have to be honest — I didn't get them published yet — life got in the way, moving off the island, and many other factors, but I do plan to get these done in the next month or two, so stay tuned!
I use the Project Planner to keep track of each of my Silk Painting Projects, whether I'm painting for clients, or for myself; being accountable for all the steps help keep us arty-farty types on track with a clear focus (well, that's what I tell myself!). It seems to be working, so I'm ready to publish — woohoo!
I made a list of some of the Silk Painting Techniques I've used over the past 30+ years, and will be sharing many of them in this book.  Looking back at my silk projects and doodles and scribbles has taken me on a trip down Memory Lane — ahhhhh it's been such fun!
I have used silk in many ways over many projects, and I thought I'd create "10 Ways To Use Silk Paintings" to show others how there are many simple (yet clever) ways to use silk which are all fun projects.
EARLY BIRD DISCOUNTS!!
For Silk Painting News readers:  If you'd like to be on the Early Bird List to know when any of these 3 books are going to be published, you'll be the first to know and you'll receive a Special Discount Code for purchasing!  I'll also share some other info — it might be a private video, a PDF or other interesting tidbit (yet to be decided). Interested?
ONLINE SILK PAINTING COURSES WILL BE STARTING SOON!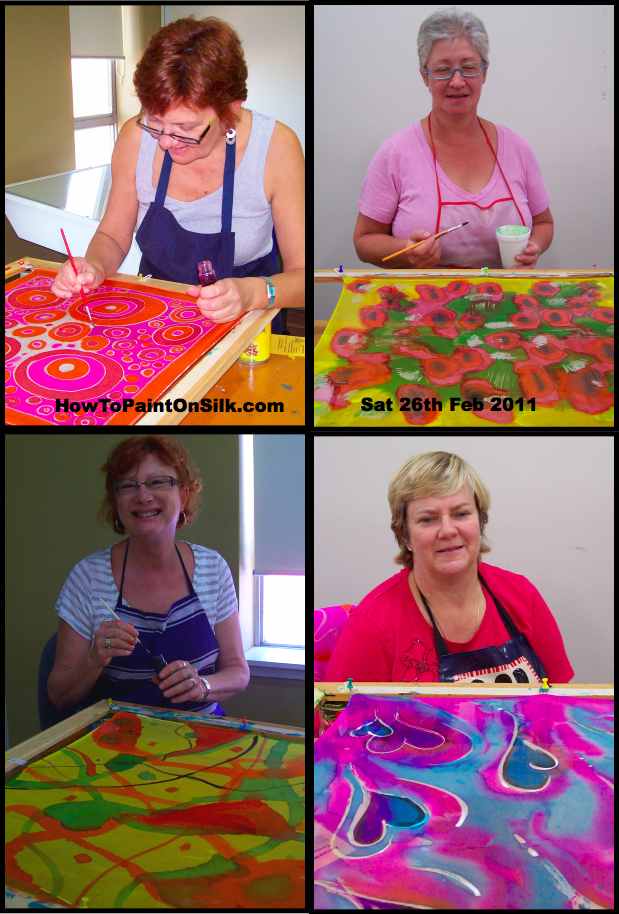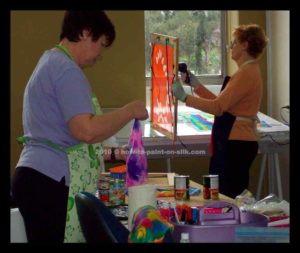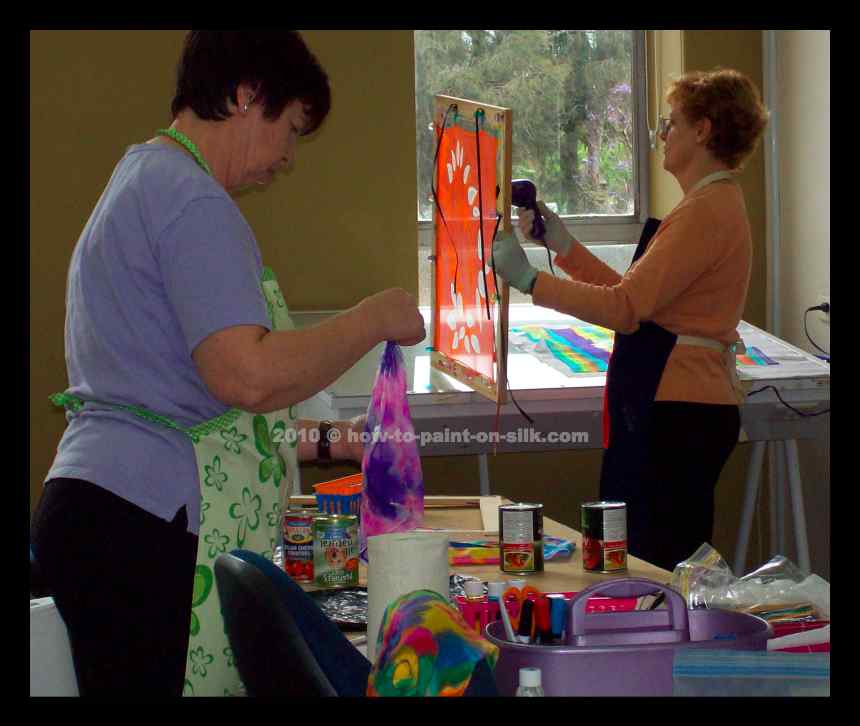 I have had many emails from people ready to start signing up for my Online Courses, and now that my new Art Studio is taking shape (and getting organised!), I'm almost ready!
I should have dates in the next News — and I'm even planning to have one or two Courses in my Studio!
If you are interested in meeting me in person and you can get to Brisbane, Australia, I'll be hosting the Workshops in my beach-y village on the east coast.
If you'd like to join me in my Studio, please reply to the email (if you're on my mailing list), or send me a message here >>
Here is a short excerpt of a video I created from one of the Modules in my 6 hour Painting On Silk online course — it's just a snippet:
---
Announcing my upcoming Art Marketing Course and Today's Marketing Tip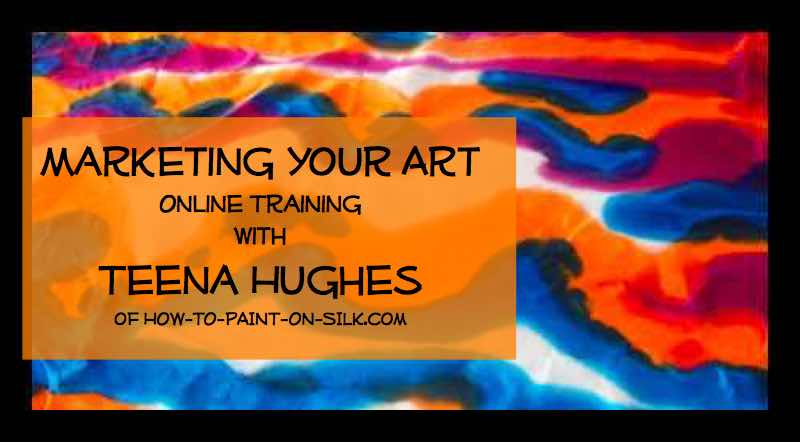 Many artists are unsure how to market themselves and their art, and as an artist, I totally understand this.  As luck would have it (and I do think this is VERY lucky!) I'm both left-brained and right-brained, which means I'm both arty and techie, so the techie side of me knows all about business and marketing and being organised, and the arty side of me … well … I'm a disorganised artist 🙂
Yes it sure makes life interesting, as I can live in both worlds at the same time.
I help a lot of artists with their marketing, and one very EASY tip I can provide today is this:
sign up at Eventbrite.com, create an Event (an upcoming exhibition or ANY type of event), add photos and TELL A STORY to engage the reader;  add a link back to a specific page on your website (NOT THE HOME PAGE). If you'd like to know more about this and how it helps your website SEO and online marketing, you might be interested in my upcoming Art Marketing Course.
Sign up to be on the Early Bird Mailing List for my upcoming Art Marketing Course >>
Links I'd like to share with you
Did you enjoy this Silk Painting News Update?
I'd love to hear your thoughts and what you're working on – let me know if you're happy to share!
hugs
Teena Hughes
Silk Artist | Textile Designer
---
Not on my mailing list yet? Click the image to sign up so I can send you juicy silky tidbits 🙂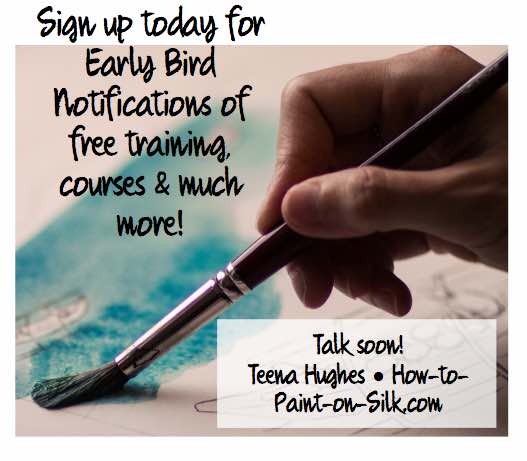 … or click here to Subscribe >>
---
Other silk painting links you might enjoy:
---