Got a few questions and answers about silk painting?
Here are a few answers (FAQs) about the online Silk Painting Course.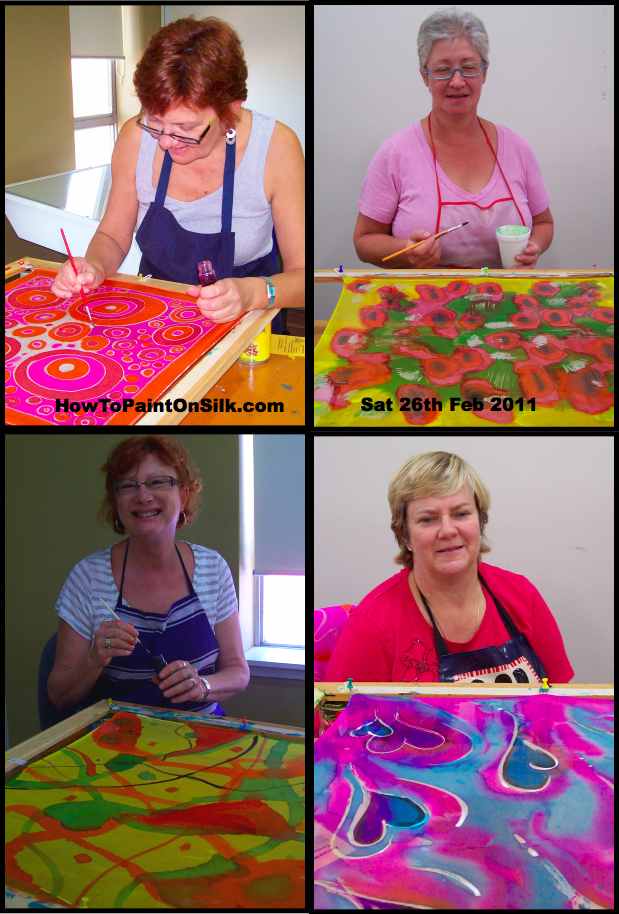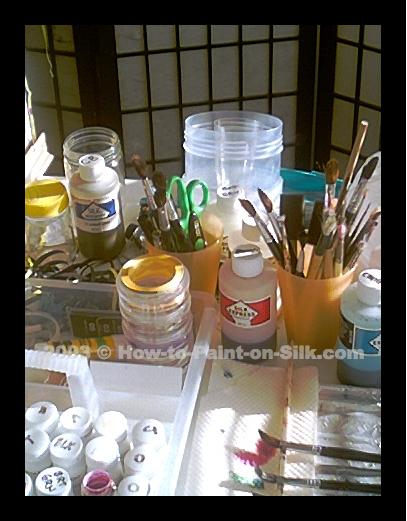 Above: Students in my one-day Beginners' Class in Sydney February 2011
How do I sign up for the Online Silk Painting Course?
Where can I read more information about the Course?
How will I know what to buy for the online silk painting Course?

Once you sign up you will have two ways to buy the products, silk etc:

the first option is to buy everything yourself – I will provide a list of items – the Silk Painting Materials List – and you can buy the materials wherever art and craft and silk painting supplies are available, or
the second option is to buy a Silk Painting Course Kit from me – I will provide more details in your Welcome email after you sign up.

What kind of frames will I need, or will I only need silk hoops?

I will let you know the types of wooden frames to buy, and alternative solutions instead of the wooden frames. Although I won't be using silk hoops in my videos, if you are used to using them then please do use whatever you feel most comfortable working with.

What kind of silk will I need?

In your Silk Painting Materials List (which you receive after making your payment), I will let you know how much silk and which type of silk you will need. If you choose to buy my Silk Painting Course Kit the silk will be included.
Above: Handpainted silk by Teena Hughes

How will I know HOW to stretch and prepare the silk for painting?

In my Online Course, I provide detailed instructions and a video to show you exactly how I stretch the silk before I start my silk paintings.

Will you show us how to hang the silk, frame the silk, or present it for exhibitions etc?

This Silk Course is aimed at learning HOW to paint on silk, rather than how to present the silk after the Course, so I won't be giving detailed instructions on this in Course 1. I will however be giving overviews on these topics in Week 6. For more detailed instructions, you will be able to learn more in my future Courses where I will provide video tutorials and step-by-step instructions on how to present your silk.

How will I know which types of silk dyes to use?

In your Silk Painting Materials List, I will let you know which dyes I recommend for the Course.

Will the silk I paint have to be steam-set?

The silk dyes I use as a professional silk artist give me extraordinarily bright and strong colours – this is achieved by using professional steam-set dyes. Yes, your silk will need to be steam-set if it is going to be worn or used on a regular basis (scarf, cushion cover etc). If you wish to have the same vibrant results as me, you will be able to follow the very easy-to-understand video tutorials on how to steam small amounts of silk at home for very little cost.
Did these questions and answers about Silk Painting will help you?
Please do let me know, I look forward to hearing from you if you have any other questions or suggestions.
Have a gorgeous day!
Teena Hughes
Silk Artist | Textile Designer

Above: One of my Students in Paris who was a  beginner silk painting student trying out different techniques with me (Teena Hughes).