October 2017 Update on Silk Painting
Hello hello Silkworm! I hope you've been creative and making beautiful things!  Do please let me know if you'd like to share photos with everyone — I'd love to put them in the upcoming Newsletters.
I've been busy — and I've made a video for you from a little fun session in my Art Studio yesterday.  Check out the video below by clicking the arrow to get started – enjoy!
PLEASE NOTE: I COULDN'T find my tripod, so I'm recording the video by holding my iPhone in my left hand and moving the silk with my right hand — not the greatest way to do it, but I managed to make the video 🙂 UPDATE! I have now found the little tripod and put it back in its rightful place in the Studio – phew! 🙂
---
What have YOU been up to?
I'd love to see some of your paintings, dabbling, etc — feel free to send me a photo (with your name on it) if you're happy for me to share it on this website.
---
Which Silk Painting Course would you like to join first?
As you may remember, I've been working on a couple of silk painting courses to launch online, and I have to admit I should have put my focus on just ONE 🙂
So I'll be honest, I've been working my way through creating 5 (yes, FIVE!!) different Courses, but today I've decided to STOP doing that, or I'll never finish any of them as quickly as I'd like.
I'm asking YOU to let me know which of these would be the ONE you'd like to see first?
Once I have your answer, I will finish the Course A.S.A.P. – and I'l be so excited AND relieved!
And here is the button to VOTE NOW (I can wait 3 days to hear from you – thank you so very much!!)

---
Questions and Answers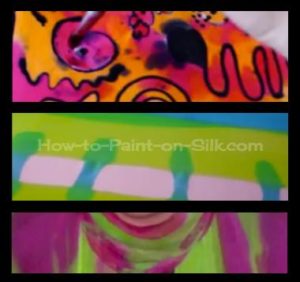 "Teena, how hard is it to paint on silk without resist? Some of your paintings look like watercolors and oil paintings."
Great question! Yes it is absolutely possible to create designs without using Gutta (pronounced "gootah"), or outliners — or cold wax.
In fact, I've been doing this for years and I love the freedom of creating new patterns and designs without using any outliner products.
ps – Sometimes I add outliners AFTER I create a design 🙂
Go ahead and try it for yourself — my advice is to start small so you won't be worrying about wasting any silk. This is also a great way to see how each colour interacts with other colours.
One of my upcoming Courses is all about this exact process — if you need a bit more guidance on how I create my designs, feel free to add your name to my Mailing list here to be the first to know when my Courses are launching.
---
Quick Silk Painting Poll – I'm testing some software
I'm trying out some Poll software — can you contact me if you have any problems with this first one, or if there are any glitches? Many thanks indeedy!
Got a couple of minutes to spare a few clicks as answers?

Loading ...

---
My 2 x Art Marketing Challenge Results

From the great feedback I've received, I can share the following with you:
most students told me they learned something new which they were now very happy to use in their marketing
a couple of students admitted they felt overwhelmed, and weren't really ready to do any marketing at the moment, but would still like to at some point soon
most students enjoyed the different types of marketing I shared — images, Gallery "reveals", animated images, simple videos etc
Will I be doing another Art Marketing Challenge?
Absolutely!  And hopefully before the Holiday season which is zooming up! I'll let you know via the Newsletter >>
---
Let me know if you have any questions!
I hope you enjoyed this October 2017 Update on Silk Painting!
My NEXT email should be announcing the LAUNCH DATE of the first of five silk painting Courses online — woohoo!
Have a spectacular day wherever you are!
Hugs,

Teena xo
---