November 2017 Update is here
Hello hello! How can it possibly be so close to Christmas and the Holiday Season?? I'm still scratching my head 🙂
I have some great news to share with you today — as promised I have the first of the new Silk Painting Courses ready — plus a couple of other goodies! Read on … and let me know what you think!
I listened to the Poll results and went with the Bamboo Steamer as the most requested new video training Course – thanks so much to everyone who participated!
Did you miss my recent post? Here it is, just in case:
Lots of silk painting announcements today!
New Course Launch:  How to Steam Hand-painted Silk with a Bamboo Steamer
New Book Launch:  Silk Painting Dictionary by Teena Hughes
New Silk Swatches available as booklets!
Yes I've been a busy little possum!
---
1 — New Course Launch:  How to Steam Hand-painted Silk with a Bamboo Steamer
Sign up today to make sure you will be in the first online training Course:

COURSE:  How to Steam Hand-painted Silk with a Bamboo Steamer
SUITABLE FOR: Scarves and small silk items, not suitable for lots of metres
LINK:  https://gum.co/bamboo101
LAUNCH DATE:  Saturday 11th December, 2017
How to grab your Early Bird Discount?
SUBSCRIBER'S GIFT
For everyone on my mailing list, there is a discount of $10 off for the next 7 days!
Check your Newsletter email for the Discount Code!
Stay tuned for the rest of the Courses which will also be launching very soon.
Looking forward to seeing you on the Course!
---
2 — Book Launch — SILK PAINTING DICTIONARY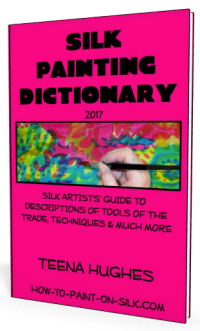 As you probably already know or guess, I get a lot of questions about everything to do with silk painting, and I've gathered a lot the information I've been sharing for years and turned it into a "silk dictionary" for silk artists!
It will probably launch straight after the Silk Painting Course  on the 11th December, and I'll let you know as soon as it does!
Size:  A5 / approximately 6×8″ / 15x20cm
spiral binder so the book can lay flat on the artist's table, making it easy to write notes in the book
95+ entries including original French words used in silk painting
10+ descriptions of types of silk
entries also include tools of the trade, techniques and some product descriptions
blank pages throughout to make it easy to write notes and observations
you'll be able to order online and receive the printed book in the POST to your Art Studio.
Got any WORDS or PHRASES you would like to see in this book? Fantastic!
As soon as I publish this new book, I will send an Update to my Mailing List (… or click here to Subscribe >>
---
3 — New Silk Swatch booklets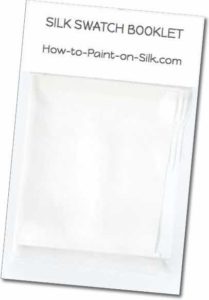 Whenever I teach a Silk Painting Course in person, my Students love having my Silk Swatch booklets as a gift.
The Silk Swatches are a great way to be able to touch different types of silk, and to see the differences.
Each type of silk absorbs silk dyes in different ways, so it's good to have the accompanying PDF which explains this in more detail.
Someone asked me if they could buy these online, and today I'm announcing YES!
I just need to check with Post Office to see what the postage will be to send these anywhere in the world, so as soon as I have that info they'll be available — and I'm so thrilled to be finally sharing these with you xox
---
Did you enjoy my November 2017 Update on How To Paint On Silk?
I hope so!
Let me know if you have any questions, send me an email or pop over to the Facebook page – I look forward to chatting with you.
My NEXT email will be announcing the LAUNCH DATE of the Silk Painting Dictionary when it goes LIVE online — woohoo!
Have a gorgeous day wherever you are!
Hugs,

Teena xo
---
Not on my mailing list yet? Click the image to sign up so I can send you juicy silky tidbits 🙂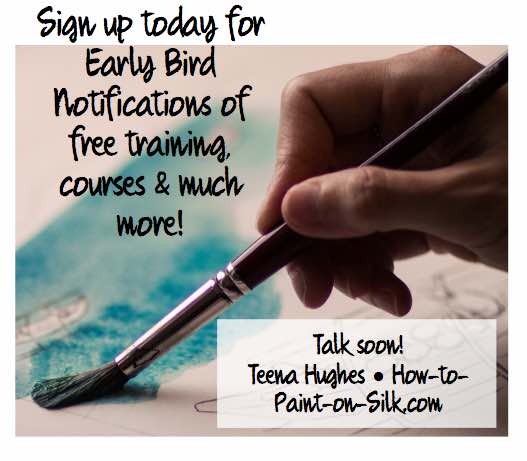 … or click here to Subscribe >>
---