Norfolk Island Silk Painting Week –
REGISTRATIONS CLOSED
Launching Norfolk Island Silk Painting Week with Teena Hughes 2016 — woohoo! Fantastic news! Registrations are now open for anyone who would like to fly from Brisbane to Norfolk Island for a week-long adventure where I teach silk painting over five days!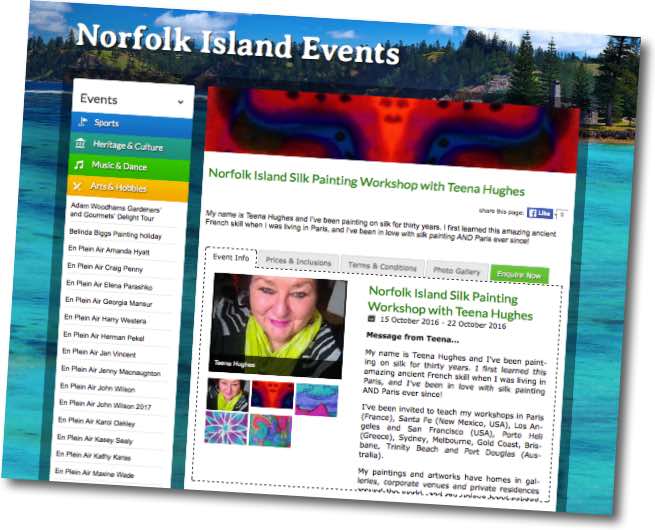 I am soooo excited by this new adventure and I can't wait to meet the wonderful adorable folks on Norfolk Island who have made this dream a reality!
Norfolk Island looks beautiful from all the photos I've seen online — and there'll be plenty of time for us to explore the island. The silk painting Workshop will be held in the mornings and we'll have rental cars to explore with — maybe we can grab some supplies for lunch and head to a different part of the island each day after silk painting. There are some restaurants for dinner, plus the accommodations have cooking facilities so we can each cook at home or share together.
We'll also have some great activities as part of the Adventure, which the Norfolk Island organisers have arranged for us.
Temperature-wise, my research shows me this island is about 28degC every day of the year — how wonderful is that!
I'm looking forward to meeting all the Students and hearing about their arty-farty-ness and love of silk painting — if you choose to join us, please do bring photos or artwork to share with us all. I'll be bringing along some of the new hand-painted silk clothing I'm currently designing, and maybe we'll have a little Fashionista Catwalk :-)
If you have any questions, please do give me a yell — send an email, Skype, pop over to Facebook How to Paint on Silk etc — it would be so great to meet you in person!
Ciao ciao for now,
Teena!