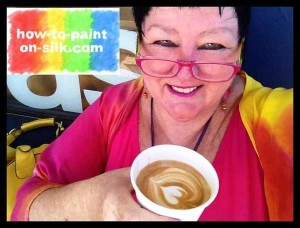 Well howdy doodee! Here we are at the end of August 2015 and I cannot believe how FAST the time is flying by!
I hope you've been dreaming of painting on silk — I know I have, and just imagining the beautiful colours and feelings I have when I'm painting makes me feel fabulous. I hope you do too :-)
August News 2015 – lots to share!
I've got NEWS — woohoo!
On the 7th September (just over a week away!!) I'll be arriving in Paris from Australia, to spend 4 weeks in the City of Love and Light — yes I'll be there for a month hosting my Adventures — and I can't wait!
This year I am not hosting Silk Painting Adventures in Paris because I'm planning for a HUGE SILKY 2016! Read on to find out more!
---

New "How to Paint on Silk" Adventures for 2016!
I've started planning my Adventures for 2016 and 2017, and I thought I'd run some ideas by you.
I am starting to plan my "potential" 2016 How to Paint on Silk Workshops in the following locations:
on a tropical island off the coast of Brisbane, Australia in March (6 days, 5 nights)
Hawaii in June (6 days, 5 nights)
Los Angeles in June (2 days, 1 night)
Paris in September (6 days, 5 nights)
and on Norfolk Island in October (8 days, 7 nights)
2017 : on a cruise ship in the South Pacific! dates to be confirmed!
All of these Adventures will cover the  basics plus a range of techniques,
interesting and fun!
I haven't hosted many in-person Adventures the past few years, and the Online Workshops have been helping so many students — but I really love to meet people who want to learn or already know how to dabble a bit in silk painting. So I put on my thinking cap and came up with a few dates and locations. Would you like to meet me in person? If you would, fantastic! This could be a way to do that :-)
It all depends on whether enough students will be interested and I'm wondering if any of these dates sound interesting to you?
I haven't finalised any dates yet, but I thought it was worth mentioning NOW to give folks time to plan ahead. Just click this link to fill in a little form to let me know why you like!
---

New Books for Silk Artists!
I've been busy planning some books to publish, and rather than the same old type of silk painting books, I wanted to create books which can also help with the organised, practical side of silk painting!
I've almost finished the first one — a book where a silk artist can write down everything about each silk Project they start, to track dyes, type of silk, techniques used and much, much more.
I'm still working on the names/titles for the books.
Here are the current ones:
Silk Artist Project Planner
Silk Artist Silk Painting Techniques
Silk Artist 10 Ways To Use Silk Paintings
Here is what I'm thinking of changing them to:
Project Planning for Silk Artists
Silk Painting Techniques
10 Ways to Use Silk Paintings
I'd like to get your opinion — what do you think about these Titles, are they better than the ones in the image above? Is it clear what you'll get in each book?
If I remove the big bold heading SILK ARTIST and change the Titles they can make more sense, what do you think?
Would you like to make your own recommendations?
Please send me a message or Comment on this page and let me know, I'd really appreciate your feedback – thanks in advance!
---
A new way of teaching, perhaps?
For quite some time now I've been trying to work out the best way to share information with you, keep Members happy, and to provide good information on painting on silk. I've tried setting up Memberships and creating videos, yet something still didn't quite fit … I wasn't sure what it was, so I kept looking and searching online this past year, trying different solutions but never quite finding the "right" one.
The good news is — I think I finally have! I'm still running some tests and will let you know as soon as I can unveil this – very exciting!
---
Got a few more minutes to spare?
Why not listen to my Podcasts where I answer questions from folks just like you — it's sort of like listening to the radio — let me know what you think! Click the image below to see the List Of Podcasts:

or click this link:  http://how-to-paint-on-silk.com/members/category/podcasts
---
We come to a close on August News 2015
That's it for today, I hope you've found time to do something arty recently, especially if it makes you feel good :-)
Ciao for now, next news might be from gay Paree!
Teena!