Hello Silkworms!
Today I have a video for you — the first of the year — I hope you enjoy it!
Apply today to be in the new Silk Artists' Book 2016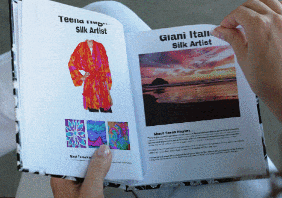 Click here to go to the Form mentioned in the video >>
Q & A about a gutta problem
One of my students had a problem recently with the dyes escaping straight through the gutta / outliner, and asked me why it might happen. I've offered several possibilities and posted them on the blog – read the answers here >>
---
Want to join me on a beautiful island in the South Pacific?
When: mid October for one week
Where: Norfolk Island, east of Brisbane, Queensland
Find out more here:
---
For those of you in or near Sydney, Australia, you might like to check out :
Exhibition
2016 — 01-14 March
The exhibition WWW.W (Weaving, Warp, Weft and Women), features Beth Hatton, Lou Kerr, Aly de Groot and Sue Ryan of Ghost Nets, Nanette Goodsell, Meri Peach and Glenese Keavney.
Some of these artists will be speaking at the Exhibition Opening on International Womens' Day (March 8) on the social commentary in their work.
The venue and opening hours:
Mon – Fri 9.30 – 4.30;  Sat & Sun 12 – 3.
Ewart Gallery // 33 Laurel St //  Willoughby (Sydney)
So, what else is happening in my Studio?
I've been working on a Calendar, a Diary, a Silk Project Workbook, and finalising details on the new silk painting courses I've been working on — its all systems go here! Hope all's well with you!
Have a fabulous week! Let's chat soon!