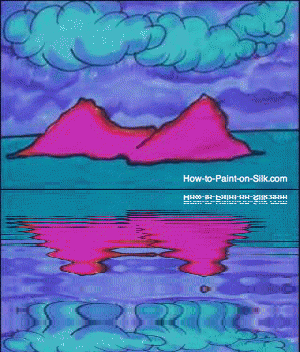 I love finding clever ways to highlight my silk painting, and I also love to help others learn new things.
As well as being a Silk Artist / Textile Designer, I'm also a creative online marketing consultant who helps businesses boost their websites online (and help them to be found in the search engines).
Having engaging images like this appeal to many more people than a standard photo.
Learn how to create moving images of silk
All of this comes together with today quick Video Tutorial, because I'd like to show you how I created an image of an island I painted on silk, where the water is a shimmering reflection (as shown in the example here).
Please Note: the reflection appears at the bottom of the photo.
Choose an image with water, or where movement makes sense
IMPORTANT!Are you going to use this image anywhere on the internet? If you are, you MUST add your website link or some way for folks to come back to you (just in case it goes viral); to do this you can upload it to Canva.com and add TEXT, then save it to your computer

NOTE: if you add a black or coloured banner like I did, it will look a bit weird just like mine does below (unfortunately)

adding a white link like the one on the right looks much better

locate the photo on your computer
go to this website:  http://www194.lunapic.com/editor/?action=reflection
you will see this at the top of the screen:

click the BROWSE button to select an image (file)
the UPLOAD button should work automatically
the image will now appear, with Options below it, like this:

at the bottom left is a SAVE BUTTON
click this to save the new image to your computer
it is now an ANIMATED GIF (pronounce G in Gif like G in Goofy).
Add the new "animated gif" image wherever you like, and wherever animated gifs can be played:
but not Facebook – you cannot UPLOAD an animated gif straight to FB, so upload it to your website first, locate the LINK for the uploaded gif, and PASTE that link into FB and you're all set!
If the gif is TOO BIG or TOO HEAVY:
Here is my result: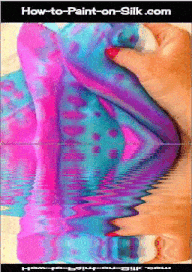 Got questions about how to create moving images of silk?
I'd love to hear from you!  Please do write a Comment below, or pop over to the Facebook page, Twitter page, or the Youtube Channel.
Have fun! Enjoy!

Teena Hughes
Other silk painting links you might enjoy: