February 2017 Paint On Silk News & Updates
Hello hello Silkworms!
Good news! This year I'm going to share more of my arty-farty projects and processes, not all of which are about silk painting.  I thought you might like to know more about the other arty things I do, and perhaps something might inspire you along the way — I'd love that!
Over the past week or two, I've received a couple of emails asking about the different products I use, so today I want to talk about one of my sketching processes and a few art supplies.
Over the years I've bought many different types of paintbrushes, so I do have a few suggestions and recommendations.
The brushes:
need to be soft and supple
need to hold a good amount of silk dye
need to be easy to look after
need to be cleaned thoroughly after each use.
The quality of paintbrushes:
I recommend starting out with the least expensive ones you can find (check out the dollar shops in your country for soft brushes)
take your time to get the hang of using your soft paintbrushes for silk painting, and don't buy expensive versions until you feel very comfortable with the less expensive ones
it is extremely important to gently wash the brushes at the end of your daily painting session, and never leave them with dye still on them
following these simple tips will ensure your brushes last many years.
I do use a variety of brands and styles, from the skinniest brushes (for fine detail on the silk) to the thicker ones which hold a lot more dye and can paint large surfaces.
If you're planning to paint LOTS of large surfaces or backgrounds with one colour, you might consider using Foam Brushes (which are very inexpensive).
What are the Watercolor Pencils for??
I'm glad you asked 🙂
I carry an A5-sized Artist Notebook in my handbag every day I leave the house — I sketch, take notes, write down observations, colour combinations, designs, patterns, etc etc etc — you get the picture.
Over the years I've also carried watercolour pencils to colour in some of my designs, and a small paintbrush with to dip into the tiniest amount of water to 'wash over' the watercolour sketch. The pencil marks start to look like actual paints once they're gently flooded with water, so you may need to  have a tissue handy so you can blot up any excess water as required.
As with the paintbrushes,  just buy children's watercolor pencils – the least expensive – for your simple notebook sketching and design ideas.
Jacquard Dyes are an excellent brand
If you're not sure which SILK DYES to buy, Jacquard is a great place to start.
If you wish to follow along with my lessons, videos, courses etc, you'll find I ONLY use SILK DYES — I do not use silk PAINTS — that's an entirely different way of painting.
I also have other silk dyes I like to use, and I can talk about those another day.
You can find Jacquard Silk Dyes on Amazon here >>
Download the PDF
If you are already subscribed to my Mailing List, you will have received this Newsletter with the PDF attached, all ready to print out.
If you're not on my Mailing List, you might like to sign up so you can get goodies and tips like this in future Newsletters 🙂
You can also receive the Download Link for the PDF by adding your details here:
Are you one of my website visitors?
I just checked my website statistics and wow! So many visitors from soooo many countries!
How absolutely wonderful — thank you everyone!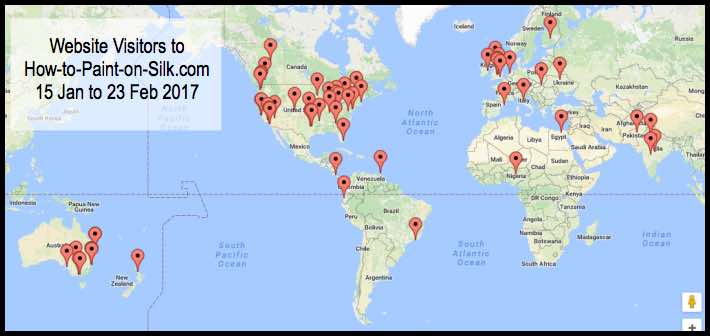 My website visitors came from these countries — how spectacularly fabulous!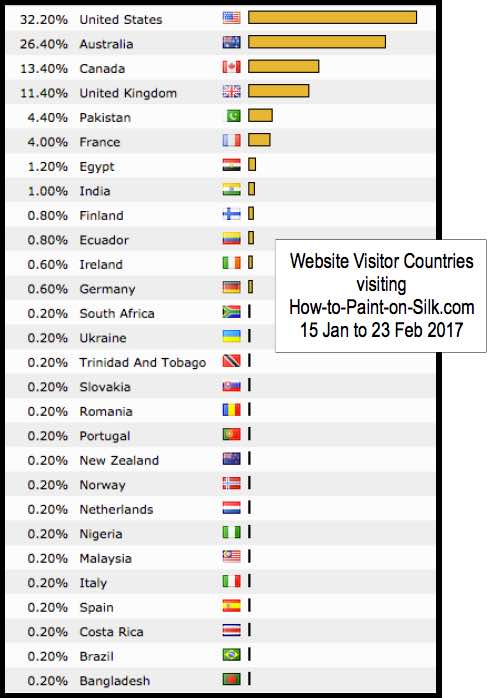 I find it absolutely fascinating and wonderful to check these statistics every now and then — what about you? Do you have a website, and if you do, do you check your web stats on a regular basis?
---
I'm looking forward to hearing from you if you have any questions!
Talk again soon! If you'd like to chat, I'd love to hear from you!
Please do write a Comment below, send me an email or pop over to the Facebook page, Twitter page, or the Youtube Channel.
Have fun! Enjoy!

Teena Hughes
___
---
Recent silk painting links you might have missed:
Post below, I'd love to hear from you!
---
Not on my mailing list yet? Click the image to sign up so I can send you juicy silky tidbits 🙂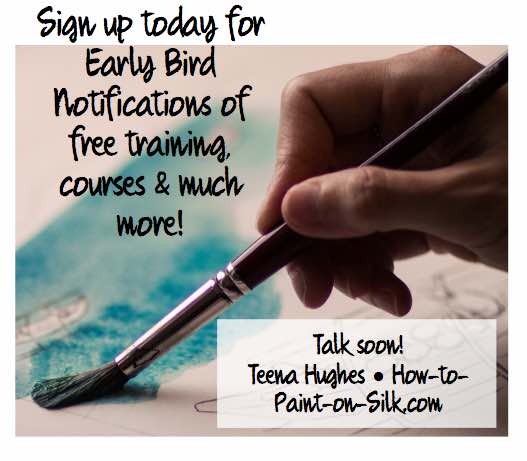 … or click here to Subscribe >>
PS: Want to know how to create moving images of silk – check out my quick tutorial! >>
---
Other silk painting links you might enjoy:
I hope you enjoyed this February 2017 Paint On Silk Newsletter — I look forward to chatting with you again soon!
Ciao for now!