I've been going through some old photos reminiscing about times past in my silk painting life, and it's been like catching up with old friends 🙂 Here's one painting day I remember very fondly:
Creating a big bold hand-painted silk design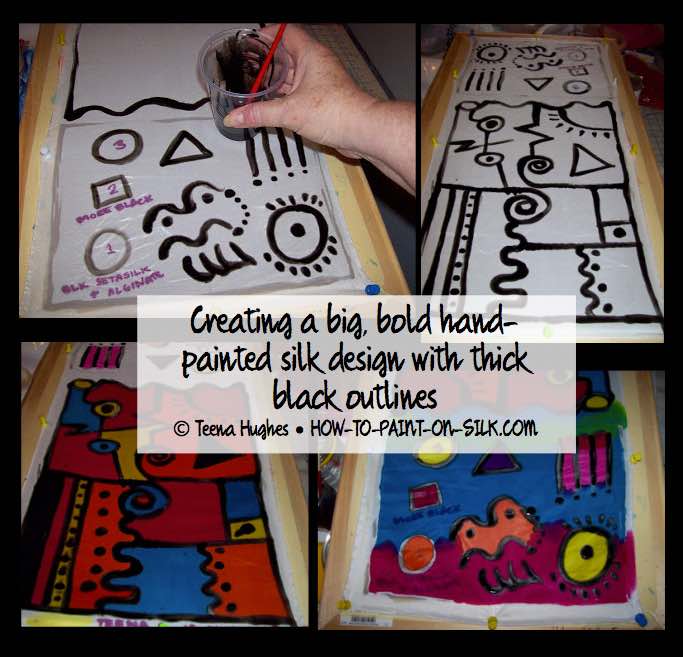 Silk: Habotai 8mm (Mommie) thickness
Outline: Black (I mix up my own) – use any gutta or outliner which works with the brand of silk dyes you use
Dyes: French (use any brand of silk dyes you prefer).
This was what I call a "doodle day", sitting in my Studio, French music playing, masses of tropical plants and palm trees outside my window with the sunlight filtering in to help create a perfect environment for painting. Ahhhh bliss!
I'm always surrounded by loads of colourful things, so with a steaming hot cup of coffee, I let myself daydream and doodle on the silk with a paintbrush or a plastic squeeze bottle of outliner, and before I know it, a new design or style is born 🙂
It's the experimenting which I love, because I never know what I'll have at the end of the day!
And I enjoyed this so much! What do you do to get creative with some little 'play' pieces of silk, to excite your creative juices? Post below, I'd love to hear from you!
Not on my mailing list yet? Click the image to sign up so I can send you juicy silky tidbits 🙂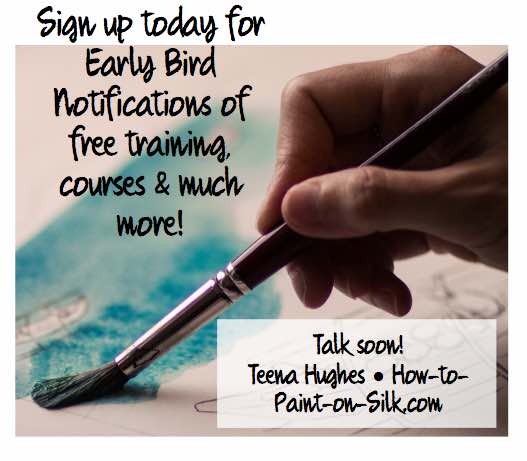 … or click here to Subscribe >>
PS: Want to know how to create moving images of silk – check out my quick tutorial! >>
Talk again soon! If you'd like to chat, I'd love to hear from you!  Please do write a Comment below, send me an email or pop over to the Facebook page, Twitter page, or the Youtube Channel.
Have fun! Enjoy!

Teena Hughes
Other silk painting links you might enjoy: