It's understandable if you're nervous or afraid – I was once too.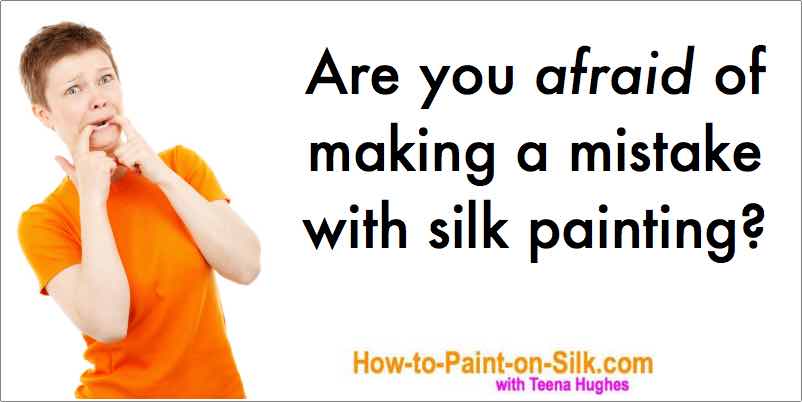 Everyone knows silk is expensive, and the thought of making a mistake while learning to paint is SCARY!
So I found a way to help my students lose their fear and stress about ruining an expensive piece of silk.
In my Workshops, I talk about this right at the beginning, and then I draw a grid on a sheet of paper — 10 grids x 10 grids.  This represents one metre of silk Habotai at approximately 100cm x 100cm.
To practice silk painting, you only need a small piece of silk, so I calculated that if the silk is about $10 per metre, then one square of 10cm x 10cm works out to be about 10c — that's right — TEN CENTS.
Not so scary now is it? All you need to do is paint on small pieces of silk (20cm x 20cm is good, about 8″ x 8″) and if you make a mistake, you haven't wasted anything or ruined anything. In one of my online training courses, I recommend you keep all these pieces you're not happy with — and then I show you how to turn them into fabulous gifts!
Are you afraid of making a mistake with silk painting?
I hope you're not anymore! Go forth and paint on silk — it's a marvellous thing to do!
cheers
hugs
Teena Hughes
Silk Artist | Textile Designer
---
---
Not on my mailing list yet? Click the image to sign up so I can send you juicy silky tidbits 🙂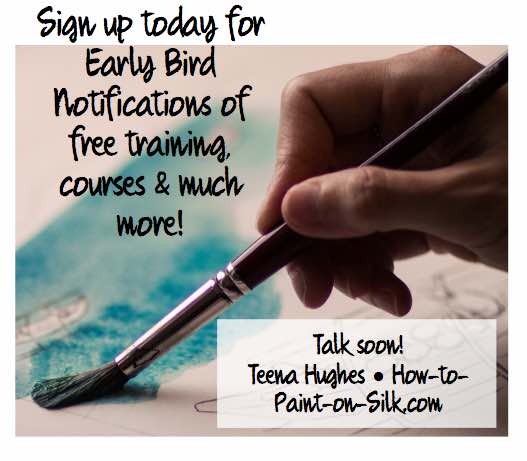 … or click here to Subscribe >>
---